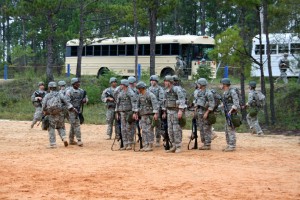 This is a journal of letters sent from US Army Basic Training as it happened at Fort Benning, Georgia. They were written almost every day and sent from a Soldier to his wife. It chronicles the experience from 20 AUG 09 to 24 OCT 09 over the 9 weeks of Basic Training and gives an account of what Basic Training is like.
The journal begins at Army in processing which is essentially equipment issue and paperwork. Later entries detail Basic Training.
The content has been slightly altered for identity purposes and readability (sometimes you cannot understand what he means as it is written).
If you want a guide for getting through and preparing for all aspects of Basic Combat Training, I recommend The Ultimate Basic Training Guidebook
It is a great tool for future Soldiers looking to get ahead of the game, and it goes through everything like fitness, preparing yourself before hand, what reception is, and even what the gas chamber is like (don't panic!).